IT failures cost £1bn, 50,000 asylum seekers are missing and new backlog is building up, according to public accounts committee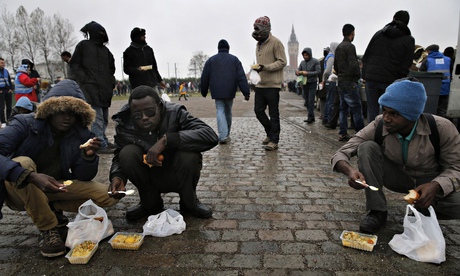 Evidence of waste and poor management within Britain's immigration system has been laid bare by a parliamentary report which reveals that failed IT systems are to cost up to £1bn while officials cannot find 50,000 rejected asylum seekers.
The Commons public accounts committee (PAC) also discloses that 11,000 asylum seekers in the UK have been waiting for at least seven years to hear whether they can stay and that officials have still not resolved 29,000 asylum applications dating back to at least 2007.
The highly critical MPs' report, published a few hours after the Home Office defended its decision to end British support for search-and-rescue operations in the Mediterranean, will increase pressure on David Cameron and his party over the handling of migration.
The Tories are being accused by Ukip of failing to curb immigration and face the possibility of losing the Rochester and Strood byelection in Kent next month to the insurgent Eurosceptic party as the issue dominates political debate.
The centre-right mayor of Calais, Natacha Bouchart, added to Cameron's woes when she
told the home affairs select committee
that the British government had done nothing to tell potential migrants that there was no "El Dorado" for them in the UK.
She said that there were 2,500 migrants in the French port who were "willing to die" to come to Britain.
Commenting on the report, Margaret Hodge, the chair of the committee, said MPs have found that the Home Office is struggling to contain major problems across the entire immigration system.
"The Home Office must put in place skilled, incentivised staff and sort out its data so it can crack the backlog and move people through the system," she said.
"The pressure is on, and the Home Office must take urgent steps to sort out this immigration mess."
The Home Office scrapped the UK Border Agency (UKBA) in March 2013 in part because its performance in dealing with backlog cases was not good enough. Operations were passed on to three directorates – UK Visas and Immigration, Immigration Enforcement and Border Force – which were due to spend £1.8bn a year, the PAC report says.
The failure of two major IT projects, the Immigration Case Work programme and the e-Borders IT programme, has hampered the Home Office's ability to track people through the immigration system. Costs could grow to £1bn, the committee warns.
MPs also examined the government's 2012 decision to set up an Older Live Cases Unit to deal with 400,000 asylum and migration claims dating back to before March 2007. The report says the number of unresolved cases now stands at 29,000 with a "worrying" backlog of 11,000 where no initial decision has been reached.
Turning to this year, the committee found that officials were struggling with fresh asylum claims, which is creating a new backlog of cases.
The number of claims awaiting an initial decision increased by 70% to 16,273 in the first quarter of 2014 compared with the same period last year.
This is partly as a result of a "botched" attempt by the UK Borders Agency to downgrade staff that resulted in 120 experienced caseworkers leaving, the report says, as asylum caseworkers were in effect demoted from higher executive officers to executive officers, which led to the mass exodus.
The report also addresses the "migration refusal pool" – where people are recorded as having no permission to be in the UK, but officials do not know if they have left or have stayed without authorisation, which has just over 175,000 people awaiting removal from the UK, it says.
But Capita, the private company contracted by the Home Office, found that 50,000 people who had not been given permission to stay could not be contacted, the MPs found.
"The department [the Home Office] admitted that they did not know where these 50,000 people were," the report says.
Home Office officials said the report is wrong to say there are 11,000 historical cases still awaiting an initial decision, because many of these cases have been assessed but await further submissions.
James Brokenshire, the immigration and security minister, said the coalition inherited a dysfunctional system incapable of the task.
"This is why we split it up into three separate divisions to improve focus on their specific roles in delivering a controlled immigration system and bring them under the direct supervision of ministers. Turning around years of mismanagement has taken time, but it is now well under way," he said.
But Yvette Cooper, the shadow home secretary, said the committee had exposed failings that could not be blamed on past administrations.
"Theresa May was very quick to blame the UKBA, but since she took direct control of the border force and immigration system we have seen backlogs increase sharply," she said.
The Refugee Council's head of advocacy, Lisa Doyle, said it was worrying that so many people were still waiting for a decision on their asylum claim. "Behind these statistics are individuals, many of whom will have suffered extreme trauma, forced to live day to day in uncertainty while they await the outcome of what could be a life or death decision," she said.